Sharlini Sankaran is the first executive director of the Research, Engagement, and Capabilities Hub of North Carolina, or REACH NC. REACH NC is a new statewide, comprehensive web portal to information on research expertise and capabilities at North Carolina's universities and research institutions. The development of REACH NC began in late 2009 as a collaborative effort of the University of North Carolina General Administration, NC State University, UNC-Chapel Hill, and the Renaissance Computing Institute, a multi-campus organization that develops and deploys advanced technologies to enable research discoveries and practical innovations. In 2010, Duke University joined the REACH NC effort as a partner, and in 2012, RTI International joined REACH NC on a pilot basis.
Sankaran holds Bachelor's and Master's degrees in electrical and computer engineering from Ohio University and a Doctorate in biomedical engineering from UNC-Chapel Hill. She previously served as Assistant Director of the NC Department of Commerce's Office of Science and Technology. At the Office of Science and Technology, Dr. Sankaran managed the Green Business Fund, a competitive program that awards grants to small businesses to encourage them to commercialize innovative green technologies. She oversaw the disbursement of $10M in federal Recovery Act funding to North Carolina small businesses. For three years, she was also lead organizer of the annual NC Nanotechnology Commercialization Conference, an event that features national-caliber speakers and attracts hundreds of attendees. Dr. Sankaran also served as research manager for the Office. Earlier in her career, Dr. Sankaran held positions with the Burroughs Wellcome Fund and Sigma Xi, the Scientific Research Society.
Dr. Sankaran is an active and dedicated volunteer in K-12 and higher Science and Math education. She has been involved in the Durham Women and Math mentoring program, serves as a judge in the annual North Carolina FIRST Robotics tournament, and speaks on career development to graduate students and postdocs in the sciences and engineering. She serves on the Standing Committee for Ag Biotech in North Carolina,is a member of the Women in Bio RTP Chapter, and is President of  the PTA at Creekside Elementary School in Durham, NC.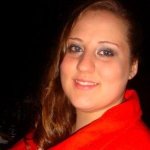 Monica Schledorn
Monica Schledorn is the Program Coordinator for the Research, Engagement, and Capabilities Hub of North Carolina (REACH NC). Schledorn is a 2011 graduate of Western Carolina University, where she earned two Bachelor's degrees: B.A German and B.S. International Business. While a student, she was very active in the university's International Office. For three summers, she studied German culture and language in Germany. She also spent one semester studying business in Portsmouth, England. After graduation, she went to work at N.C. State, where she worked in Sponsored Programs and Regulatory Compliance  At N.C. State, Schledorn updated the federally funded grants databases.
Monica Schledorn is an active volunteer with the Orange County Literacy Council. She currently teaches English as a Second Language to adult immigrants and refugees at a local elementary school. Schledorn is also in training to be a tutor for home schooled children in Orange County. She will be assisting with outreach efforts along with providing private tutoring sessions.  In addition to teaching, she has also been involved with Paws4Ever helping to train and care for the dogs.